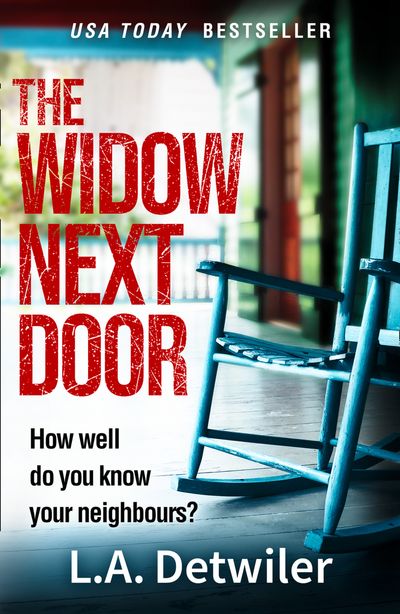 The Widow Next Door
By L.A. Detwiler
A beautiful house. A new beginning. The almost perfect neighbours…
When newlyweds Jane and Alex Clarke move into an idyllic house on the quaint Bristol Lane, they are excited for a new beginning in what will be their 'forever home'.
And when an elderly neighbour welcomes them, she soon becomes a friend. But she grows a little too interested in the couple next door as she sits watching them, day in, day out, from the rocking chair in her window.
Alex says it will be fine. After all, she's a lonely widow who just wants some company. But when she invites Jane into her home, who knows what she'll find there…
A dark and gripping domestic thriller, perfect for fans of Shari Lapena and Paula Hawkins.
** Praise for The Widow Next Door **
'This was a showstopper. I couldn't put it down, and never wanted it to end. Will be looking for L.A. Detwiler's next book!' NetGalley reviewer
'It has me hooked from cover to cover. Such an incredible read!' NetGalley reviewer
'This book was twisted, and brilliant. It gave me chills down my spine.' NetGalley reviewer
'A great book to read on the sofa with a cup of tea while it storms outside. I really love domestic psychological thrillers and this book did not let me down!' NetGalley reviewer
Praise for L.A. Detwiler -
"'This was a truly claustrophobic thriller that I couldn't put down. I love this genre, but this book felt like it brought something different to the table. And THAT twist!" - Amazon reviewer
"'Thoroughly enjoyed this book! Looking at all the reviews I would say this book is like marmite, you either love it or you hate it… I LOVED it." - Amazon reviewer
"'Enjoyable and sinister at the same time patterns following patterns written in an old world comfortable style with underlying secrets" - Amazon reviewer
"'Great read, once you start reading this book you will be hooked, and the ending, well nothing like I was expecting." - Amazon reviewer