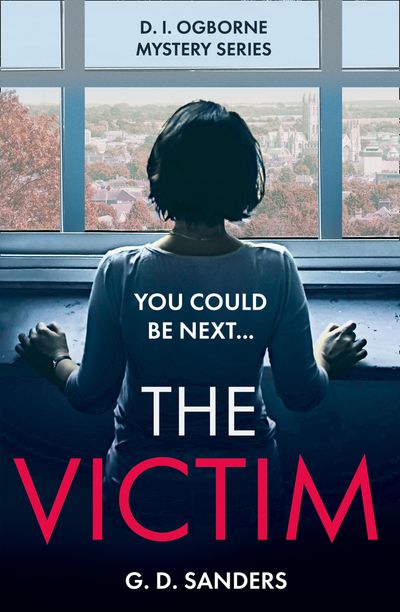 The DI Ogborne Mystery Series - The Victim
(The DI Ogborne Mystery Series, Book 2)
By G.D. Sanders
Someone is lying… and someone is dead.
When a young woman is found dead in her own bedroom, the Canterbury police are baffled. There's no sign of a break-in and no evidence. It's as though the killer has vanished overnight.
DI Edina Ogborne is determined to uncover the truth and, when another young woman survives a similar attack, she's convinced the two incidents are connected. But the new victim, Gina, has her own ideas about how to bring her attacker to justice.
As Ed investigates, she soon realises not everything is quite what it seems – and that someone close to the case is lying.
But will she find out who before it's too late?
The second instalment in the DI Ogborne Mystery series is a heart-pounding crime thriller perfect for fans of Louise Candlish and S. E. Lynes.
What others are saying about THE VICTIM:
'Fast-paced, twisty, original and hugely entertaining.' J. P. Carter, author of In Safe Hands.
'Another gripping read from a strong new voice in police procedurals.' Claire Allan, author of Her Name Was Rose.
'This is definitely my favorite mystery thriller for 2019! Wow!' Reader review
'Could easily be read as a stand-alone… the twists and turns were excellent.' Reader review
'Absolutely loved this book…full of twists.' Reader review
'Bloody Brilliant!… a simply superb addition to the series. It's tense, dark and highly twisty! Its everything I look for in a good thriller… a complex, twisted yet intriguing plot.' Reader review
'Kept me racing through the pages… the surprises kept coming as the investigation intensifies… looking forward to another in this series and want to go back and read THE TAKEN GIRLS as well.' Reader review
'I read this in one sitting, could not put it down! ' Reader review
PRAISE FOR G.D. SANDERS: -
"'Another gripping read from a strong new voice in police procedurals. DI Edina Ogborne is quickly finding her place among my favourite fictional detectives. Perfect for fans of Jane Casey." - Claire Allan
"'Clever and wonderfully chilling with dark secrets, mystery and intrigue! Masterfully done." - NetGalley reviewer
"'The Taken Girls is a tense thriller. A missing girl comes back pregnant & when the investigation ensue,s there are so many questions, and so many twists and turns. A really well written thriller - looking forward to more books from this author." - NetGalley reviewer
"'A great police procedural" - NetGalley reviewer
"'A fast paced thriller about dark secrets. I enjoyed reading this and think the plot and characters were well developed." - NetGalley reviewer