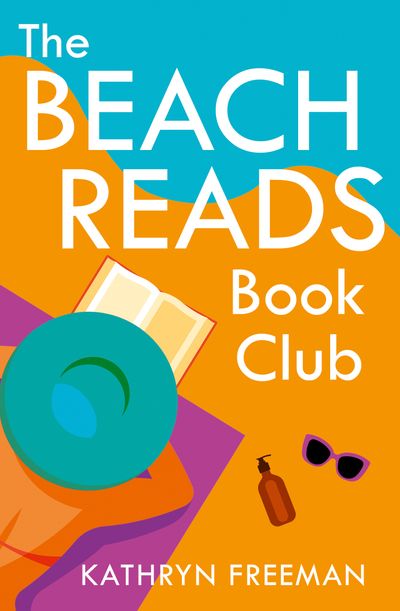 The Kathryn Freeman Romcom Collection - The Beach Reads Book Club
(The Kathryn Freeman Romcom Collection, Book 5)
By Kathryn Freeman
Welcome to the Beach Reads Book Club. Where love is just a page away…
'I would run through fire to be part of this kind of bookclub, with books that make us smile and cry and laugh. Never have I seen my view of rom com and beach reads better expressed than in this wonderful book' Genevieve, reader review
When Lottie Watt is unceremoniously booted out of her uptight book club for not following the rules, she decides to throw the rulebook out the window and start her own club – one where conversation, gin and cake take precedent over actually having read the book!
The Beach Reads Book Club soon finds a home for its meetings at Books by the Bay, a charming bookshop and café owned by gorgeous, brooding Matthew Steele, and as the book club picks heat up, so too does the attraction between Matt and Lottie.
If there's anything Lottie has learned from the romances she's been reading, it's that the greatest loves are the ones hardest earned.
Readers are loving The Beach Reads Book Club:
'A brilliant book with fabulous characters and a great storyline…I can't believe this is the first Kathryn Freeman book I've read!' Julie
'This was just a fabulous book. I devoured and loved every second of it! Looking for a cute, romance read…. Don't miss this amazing book!' Rubie
'I so wanted to belong to this book club…These are the people I need in my life right now. A beautiful story and one you should all read this summer whether you are on the beach or curled up in bed' Sarah
'I want to join Lottie's book club where gin and cake are the order of the day' Isabel
Readers can't get enough of The New Guy: -
"'Seriously love this twist on an office romance" - Christina Parker, Netgalley
'Their chemistry was off the charts'Mad Mom Life -
"'Better than most rom coms I've watched and read!" - Jennifer Arnold, Netgalley
"'Reads like the perfect rom-com movie" - Sinead, Librarian
"'Very sexy and very sweet" - Morgan Shulman, Goodreads
"'Warmed my heart and read like a movie…What a beautiful sweet surprise this was" - Kelsey Peterson, Goodreads
"'You have yourself a page turning, don't want it to end story, in essence an absolutely cracking read!" - Margaret Harris, Netgalley
"'A gorgeously sweet romance!" - From Rachael Claire
"'It's got laugh out loud moments, heart wrenching moments but most important that feel good factor" - Chantiece Bates, Goodreads