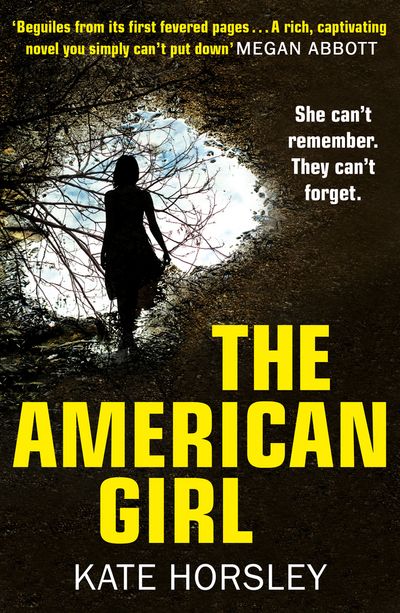 The American Girl
By Kate Horsley
From a bright new talent comes a twisting psychological thriller with a shocking conclusion, perfect for fans of Ruth Ware, B.A. Paris and Helen Fields.
A MISSING FAMILY
Barefoot, bloodied, with no memory of what has happened to her – Quinn Perkins stumbles out of the woods in France and discovers that her exchange family have mysteriously disappeared.
A SMALL TOWN SEEKING REVENGE
Journalist Molly Swift is drawn to the mystery and prepared to do anything to learn the truth, including lying to get close to Quinn. But when a shocking discovery sparks fury in the town, Quinn is arrested for murder.
DARK SECRETS DRAGGED INTO THE LIGHT
As a trial by media ensues, Molly is left to unravel the town's disturbing past and clear Quinn's name – but is she really innocent? Or is she a cunning killer intent on getting away with murder?
"'Beguiles from its first fevered pages … A rich, captivating novel you simply can't put down" - Megan Abbott, Edgar Award-winning author of Dare Me and The Fever
"'This fierce, convoluted tale offers one surprise after another." - Publishers Weekly
"'Horsley's spooky psychological thriller is the perfect late-summer beach read" - Richmond Times-Dispatch
"'The suspense and deep plot speak volumes … kept me on the edge of my seat. I was deeply entranced with this magnificent tale and I highly recommend it to readers everywhere. Kate Horsley is indeed a talented writer" - Manhattan Book Review
"'A compelling psychological thriller … [with] Poe-like dread " - Booklist
"'Throughout her novel's shifts in narration and chronology, Horsley plays the reader as cleverly as she does the characters" - Kirkus
"'Loaded with twists and unexpected turns, The American Girl is not only chilling, it is frighteningly plausible" - Reader To Reader
"'Readers will certainly add Kate Horsley to their list of authors to watch in the future" - BoloBooks.com
"'The American Girl is a psychological suspense novel … that will have readers holding their breath until the last page" - Lori Rader-Day, Mary Higgins Clark-winning author of Little Pretty Things
"'Kate Horsley's taut writing and whip-smart plotting make for an exceptional mystery … hypnotic" - Hilary Davidson, Anthony Award-winning author of Blood Always Tells