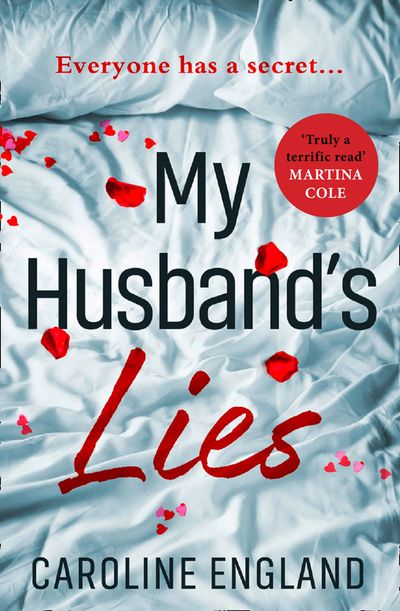 My Husband's Lies
By Caroline England
'I was gripped immediately' KATERINA DIAMOND, author of THE TEACHER
'Terrific characterisation, great writing and twists to leave you dizzy.' TERESA DRISCOLL, author of I AM WATCHING YOU
Do you really know your friends?
** THE TOP 20 KINDLE BESTSELLER**
On the afternoon of Nick and Lisa's wedding, their close friend is found poised on a hotel window ledge, ready to jump.
As the shock hits their friendship group, they soon realise that none of them are being as honest with themselves – or with each other – as they think.
And there are secrets lurking that could destroy everything.
Tense, disturbing and clever, My Husband's Lies is a breath-taking read, perfect for fans of Lucy Clarke and Erin Kelly.
PRAISE FOR MY HUSBAND'S LIES -
"'I read it in the sun today and finished it in hours!Truly a terrific read!" - MARTINA COLE
"'Twisting triangles of love and lust distort a perfect circle of friends in this slow-burning literary thriller." - RACHEL SARGEANT
'A clever, intriguing and twisted tale that builds to a gut-wrenching conclusion.' ROZ WATKINS -
"'Sharp and sweetly twisted. I loved it." - HELEN FIELDS
"'A totally absorbing read that's beautifully written, where lives and secrets slowly unravel." - ELISABETH CARPENTER
"'A sumptuous serving of domestic noir that takes you deep into the hearts and minds of its characters.Keeps you on your toes throughout." - S.D. ROBERTSON
"'A simmering cocktail of betrayal, lust and deceit in this explosively plotted thriller about family secrets and broken friendships." - SANJIDA KAY
"'An intoxicating read. A thrilling blend of social drama & crime thriller. Recommended!" - DAVID STUART DAVIES
"'A richly atmospheric tale of secrets and lies woven into friendship ties. A simply compelling read." - JANE ISAAC
"'With intrigue on almost every page and a cast of multi-layered, challenging characters, it kept me hooked from the first page until the last." - FAITH BLEASDALE
"'Beautifully observed. Beautifully crafted." - AMANDA ROBSON
"'A gripping psychological drama, My Husband's Lies is full of jaw-dropping twists that will leave readers reeling." - PETRINA BANFIELD, author of The Forgotten Girl
PRAISE FOR CAROLINE ENGLAND -
"'I was gripped immediately and I couldn't wait for it to finish - perfect for fans of Into the Water by Paula Hawkins" - KATERINA DIAMOND
"'Gripping, immersive, horribly believable" - SANJIDA KAY
"'This is a tautly elegant psychological thriller, razor-sharp and utterly believable. I loved it." - SARAH JASMON
'I loved this book. A clever, glamorous, observational, page turning read which pulled me in right from the start until the pivotal, and most satisfying end.' AMANDA ROBSON -