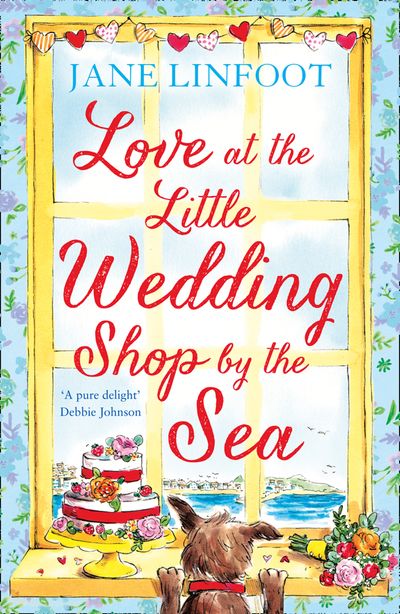 The Little Wedding Shop by the Sea - Love at the Little Wedding Shop by the Sea
(The Little Wedding Shop by the Sea, Book 5)
By Jane Linfoot
St Aidan: a cosy Cornish village where friendships are made for life and it's always cocktail hour somewhere…
'A pure delight' Debbie Johnson
Return to your favourite little wedding shop by the sea for love, laughter and a romance to sweep you off your feet!
It's the most romantic day of the year but the girls aren't just gearing up for Valentine's Day and a busy wedding season ahead, it's also the 10 year anniversary of their beloved shop!
Jess is planning the party of the decade and with the champagne and cocktails flowing, sparks are going to fly…and not just from the fireworks display!
Readers adore Jane Linfoot's books!
'Have you ever liked a book so much that you wanted to give it a hug…chicklit GOLD' Pretty Little Book Reviews
'Jane Linfoot combines fabulous friendship with gorgeous true love…a fantastic captivating story with a sweet romantic ending' With Love for Books
'A character that you genuinely like' Mrs Wheddon Reviews
'The perfect holiday read…you feel as if you are part of the group of friends' Coffee and Kindle Book Reviews
'Where should I begin with this wonderful, delicious novel…a stunning, fabulous read' Kat, Goodreads
'An uplifting, warm and romantic story that was a real pleasure to read' Rae Reads
Praise for Jane Linfoot: -
"'Sparkling, laugh-out-loud, romantic" - Phillipa Ashley, bestselling author of Summer at the Cornish Café
"'The perfect holiday read to warm your heart" - #1 Bestselling author Tracy Bloom
'Just like the perfect wedding cake, Cupcakes and Confetti is beautifully crafted and wrapped in romance' Heidi Swain -
"'Funny and big-hearted, I was enchanted by Lily and her friends" - Sunday Times bestselling author Michele Gorman
"'A pure delight…fabulous, fun and unforgettable" - Debbie Johnson, bestselling author of Christmas at the Comfort Food Cafe