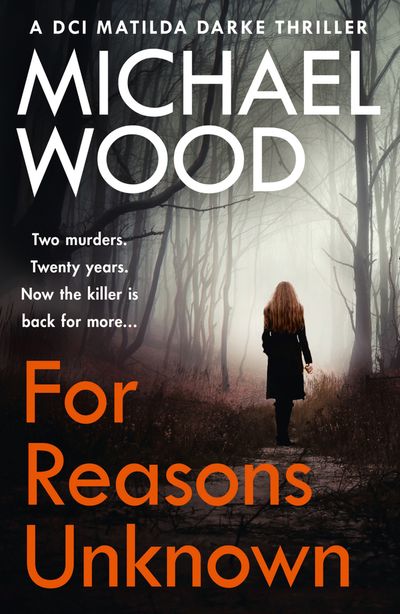 DCI Matilda Darke Thriller - For Reasons Unknown
(DCI Matilda Darke Thriller, Book 1)
By Michael Wood
Two murders. Twenty years. Now the killer is back for more…
DCI Matilda Darke has returned to work after a nine month absence. A shadow of her former self, she is tasked with re-opening a cold case: the terrifyingly brutal murders of Miranda and Stefan Harkness. The only witness was their eleven-year-old son, Jonathan, who was too deeply traumatized to speak a word.
Then a dead body is discovered, and the investigation leads back to Matilda's case. Suddenly the past and present converge, and it seems a killer may have come back for more…
A darkly compelling debut crime novel, this is the start of a brilliant series, perfect for fans of Louise Penny and Val McDermid.
Praise for Michael Wood:
'Crackling dialogue, dark wit and an exciting ending' Mark Edwards
'DCI Matilda Darke is going places' James Oswald
'I really enjoyed getting to know DCI Matilda Darke' Robert Bryndza
'A beautifully written book with a dark heart and a secret that impacts on generations' Sarah Ward
'A skilfully crafted and compelling debut that hooks from the off and will keep you guessing until the final page' M.R. Hall
'Gripping, sad and unexpected' Alex Marwood
Praise for OUTSIDE LOOKING IN: -
"'Crackling dialogue, dark wit and an exciting ending. Recommended if you liked Happy Valley" - Mark Edwards
"'DCI Matilda Darke is going places" - James Oswald
"'A compelling, addictive read, it's hard to put down. I really enjoyed getting to know DCI Matilda Darke. She's strong character with real depth" - Robert Bryndza, bestselling author of THE GIRL IN THE ICE
Praise for FOR REASONS UNKNOWN: -
"'A beautifully written book with a dark heart and a secret that impacts on generations" - Sarah Ward
"'A skilfully crafted and compelling debut that hooks from the off and will keep you guessing until the final page. I can't wait for Michael Wood's next one" - M.R. Hall
"'Gripping, sad and unexpected - this is a terrific debut. Wood writes with the confidence and flair of an old hand" - Alex Marwood
"'A strong debut with an intriguing mystery at its heart. The first thing that strikes me is how well he writes female characters. The novel is packed full of strong women" - Ben Cheetham
"'An appealing - and refreshingly human - lead character is swept along in this ingeniously plotted, fast paced debut" - Chris Simms
'This explosive novel is already making a bang - with reviewers comparing Michael's work to that of his heroes Val McDermid and James Oswald' Sheffield Star -