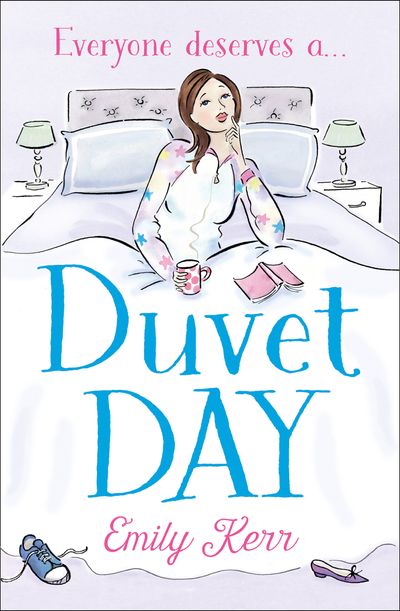 'Feel-good, fast-paced and fabulous fun !' Sunday Times bestseller Cathy Bramley
'Full of sparkle, charm and properly laugh-out-loud moments! Alex Brown, bestselling author of A Postcard from Italy
The laugh-out-loud romcom of the year! Perfect for fans of Mhairi McFarlane, Jo Watson and Sophie Ranald.
Young lawyer Alexa Humphries's one true love is her precious duvet, yet she is torn from its comforting embrace every morning while the foxes are still scavenging the bins outside and doesn't get back until long after most normal people are already asleep. Worn down by the endless demands of her suspicious boss and her competitive, high-flying housemate and fellow lawyer, Zara, Alexa barely recognises herself anymore. This wasn't how life was supposed to be.
But today is different. Today, Alexa just cannot get out of bed to face the world. Everyone deserves a duvet day, don't they?
Emily's novel Take a Chance on Greece won the Romantic Comedy award at the Romantic Novelists' Association awards 2023
Readers can't get enough of Duvet Day!
'I loved this gorgeous romp of a read!' Liz Fenwick
'A rollercoaster of a romance!' Pernille Hughes, bestselling author of Probably the Best Kiss in the World
'Funny, romantic, and exactly what everyone needs right now' Rachael Lucas, bestselling author of The Telephone Box Library
'I read this book in a day…Definitely a page turner' Donna
'Witty and uplifting' Whitney
'I've discovered a new favourite romcom author – hurray!!! Light hearted (and yet full of heart!), hilarious, uplifting and sweet' I.A. Writes
'A fun enjoyable book that I highly recommend' Cathy
'I loved this book, it was very funny and gave some light relief. The writing style reminded me of Beth O'Leary or Helly Acton' Cally
'Such an easy and fun read' Bee
'A funny, charming, light hearted read' Isabelle
'Oh my gosh, this book was hilarious! I zipped through it and was sadden to realise I finished it so fast' Karen
'It was a joy to get an early look at this new book. It was so funny and charming' Marti