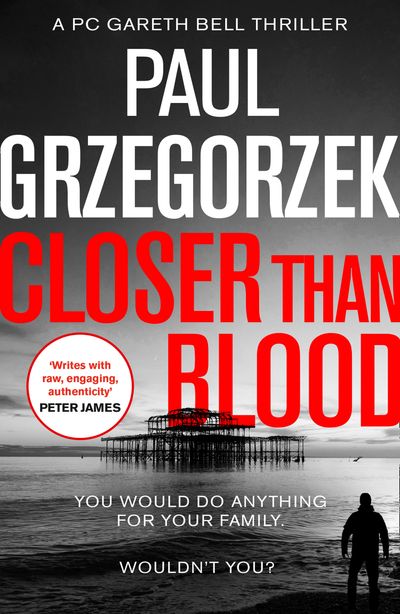 Gareth Bell Thriller - Closer Than Blood: An addictive and gripping crime thriller
(Gareth Bell Thriller, Book 2)
By Paul Grzegorzek
The author will be donating all of his royalties from the sales of this book to the charity Road to Ukraine (roadtoukraine.com)
You would do anything for your family. Wouldn't you?
Book 2 in a fast-paced and riveting Brighton-set police procedural crime series featuring PC Gareth Bell. Perfect for fans of Peter James.
'Writes with raw, engaging, authenticity' Peter James
The real nightmare begins when the missing person returns…
PC Gareth Bell is about to arrest a cocaine dealer on Brighton Marina, when he makes a shocking discovery that turns his world upside down: the dealer is his long-lost brother, Jake, someone he thought had died years ago.
But their reunion is short lived. For Jake is on the run from a cold-blooded killer, whose network reaches all the way into the police force itself. Now that his brother's life is on the line, Bell has only two choices. Family, or duty?
Praise for Closer Than Blood: -
"'The very definition of a page turner. Gripping and original. This is a series everyone should be reading" - Michael Wood
"'A tense and fast-paced thriller that kept me gripped from the first page to that explosive climax. OMG, who knew Brighton has such a gritty underbelly. I thoroughly enjoyed Closer Than Blood, and can't wait to read more from this brilliant writer" - Stephen Edger
Praise for Paul Grzegorzek: -
"'Writes with raw, engaging, authenticity" - Peter James
"'Fast paced and full of tension, The Follow packs an explosive punch! Great read!" - Casey Kelleher
"'Peter James meets Luke Delaney in a blistering, heart-stopping novel. A genuine snapshot of policing in twenty-first century Britain. Dark, shocking, pacy, and utterly brilliant" - Michael Wood
Praise for Paul Grzegorzek: -
"'A terrific read … I loved it" - Matt Hilton
'Keeps you up to the small hours. A cracking start to what promises to be a fantastic series!' Alan McDermott -
"'Read it!" - Alex Shaw, bestselling author of the Aidan Snow series
"'A fast-paced read, full of unexpected turns. I loved it" - Lisa Cutts, author of Never Forget.