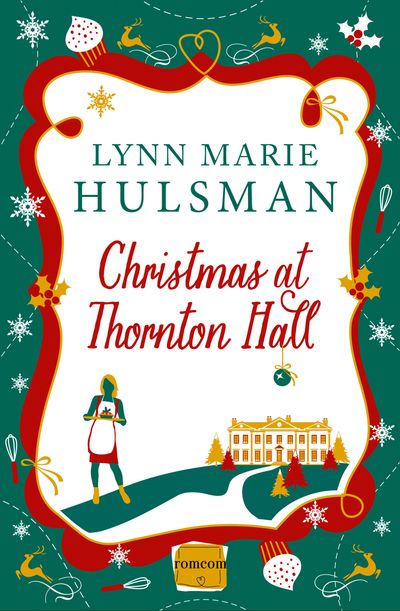 Christmas at Thornton Hall
By Lynn Marie Hulsman
'If you only treat yourself to one festive read this year, it has to be this one' Goodreads Reviewer
When Juliet Hill unwittingly discovers a most-definitely-not-hers-rhinestone-studded lace thong in her high-flying lawyer boyfriend's apartment, this usually feisty chef is suddenly single and facing a very blue Christmas – with only a ready meal for one to keep her company!
So when she's personally requested to cater for the family at Thornton Hall three days before Christmas, it's not long before Juliet's standing at the (back) door of the Earl of Gloucester's impossibly grand ancestral pile.
The halls are decked, the guests are titled, those below the stairs are delightfully catty, and all-American Juliet sets to work cooking up a glorious British Christmas with all the trimmings.
But other flames are burning besides those on the stove… Sparks fly with Edward, the gorgeous ex-soldier turned resident chef, and are those sidelong looks Juliet's getting from her boss, the American tycoon Jasper Roth?
As the snow starts to fall on the idyllic Cotswolds countryside, so does the veneer of genteel high society and there are more than a few ancient skeletons rattling out of the Hall's numerous dark cupboards!
CHRISTMAS AT THORNTON HALL is a country house rom com for the modern age, a must-read for fans of the scandals and drama of Downton Abbey and the charm and wit of Helen Fielding.
"'Christmas at Thornton Hall should DEFINITELY be your Christmas read of 2013." - Erin Lawless, author of The Best Thing I Never Had
"'Christmas at Thornton Hall is a lovely, funny and sexy modern 'upstairs, downstairs' story. Prepare yourself for a Christmas like you've never seen before." - M's Bookshelf
"'If you only treat yourself to one festive read this year, it has to be this one." - Goodreads Reviewer