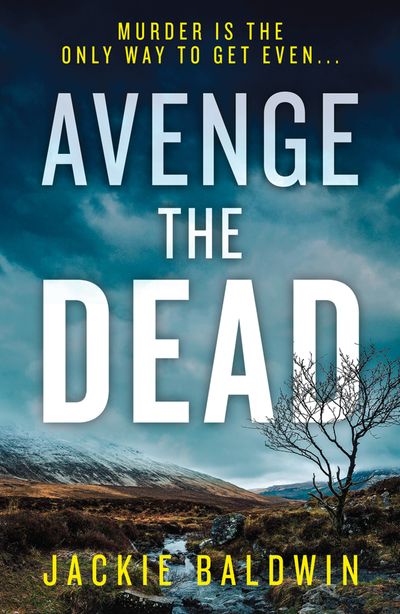 DI Frank Farrell - Avenge the Dead
(DI Frank Farrell, Book 3)
By Jackie Baldwin
Sometimes murder is the only way to get even…
The gripping new Scottish crime thriller that you won't be able to put down. Perfect for fans of L J Ross and Val McDermid.
'A deliciously dark and twisted tale that kept me reading late into the night' Graham Smith, bestselling author of A Body in the Lakes
Four friends with dark secrets. One killer out for revenge.
DI Frank Farrell and DS McLeod are tasked with investigating the brutal murder of a defence solicitor's wife in Dumfries.
It's been over a year since they left the town after an investigation robbed them of a dear friend. But now they're back and must find a way to move on.
When the son of another defence solicitor is murdered, a strange tattoo etched on his body, the case takes them into darker, more disturbing territory.
It leads them back into the past – to a horrific fire in a cottage that took a woman's life, to four friends harbouring dark secrets – and finally to a killer waiting patiently for revenge.
Praise for Avenge the Dead
'Expertly plotted, I was completely engrossed in the investigation and the lives of the characters, there were twists and turns all the way through keeping me on the edge of my seat… definitely a "just one more chapter" kind of read!' Sharon Bairden, Chapter in My Life
'Brutal and gritty in parts whilst sensitive and emotional in others, this book had me turning the pages well into the night' Alison, NetGalley
'This was another riveting foray into the world of DI Frank Farrell! From the first chapter, I could not put this novel down, staying up late to finish just to see what would come next' Krystal, NetGalley
"'Dark, twisting and utterly absorbing; this series just gets better and better" - M. W. Craven, author of The Puppet Show
"'A pacy and dark police procedural with an original protagonist. DI Farrell is a character to cherish and Jackie Baldwin is a writer to watch out for. She's going to be huge" - Michael Wood
"'An extraordinarily well crafted police procedural. A real page turner" - Tana Collins
"'Kept me hooked until the last page - Jackie Baldwin is back with her trademark assured characters and deft handling of the twists and turns in a fascinating plot" - Mary-Jane Riley
"'A complex, gripping and fast-paced thriller, handled by Jackie Baldwin with impressive skill and technique" - Aline Templeton
"'Gripping … a compelling and authentic page-turner" - Sunday Mail
"'A thrilling, pacy police procedural with a very humane heart beating at its core" - Caro Ramsey
"'British crime fiction has a rising star. DI Frank Farrell is flawed, layered and utterly compelling. The plot is intriguing, the supporting characters well-rounded, and the psychology of Catholicism is subtle and effective. A great read" - Mike Craven, author of the D. I. Avison Fluke series
"'Jackie Baldwin is an exciting author whose debut novel is one which will stay with me for a long time … the more I read, the faster I found myself turning the pages … I'm already wondering how long it'll be before I can read the next instalment" - CrimeSquad.com
"'In her striking debut novel, Jackie Baldwin demonstrates an ease with police procedure, an ear for character and an eye for a strong storytelling. Really looking forward to seeing where she goes next" - Michael Malone
"'Stark and lean, yet deeply layered writing marks Jackie Baldwin out as a rising star on the British crime fiction scene. Dead Man's Prayer is a compelling, thrilling read, and DI Frank Farrell a character I look forward to meeting again" - Matt Hilton, bestselling author of the Joe Hunter thrillers