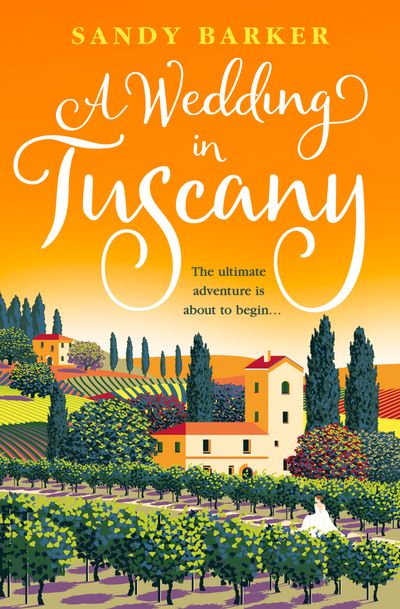 The Holiday Romance - A Wedding in Tuscany
(The Holiday Romance, Book 5)
By Sandy Barker
'A wonderful, witty escapist read . . . fabulous [and] feel-good' Kitty Wilson, author of Every Day in December
'A delightful, heart-warming story of romance, friendship and family' Lynne Shelby, author of Love on Location
'A truly wonderful sunshine infused book' Reader Review
'A beautifully romantic read with all the drama you'd expect' Katie Ginger
'A heartfelt, witty tale . . . recommended for anyone who loves travel, romance and laughter' Fiona Leitch
***
Love is in the air . . .
Sarah has everything she ever wished for; she lives with her gorgeous boyfriend and their cat in Sydney and life couldn't be better. If only she wasn't so anxious about turning the big 4 0.
Meanwhile Cat is happily loved-up with Jean-Luc, except she lives in London, and he lives in Paris. She loves their long-distance relationship so why is she worrying about their future.
But a surprise wedding proposal is about to change everything for these sisters. And with all their family and friends gathering at a vineyard in Tuscany to celebrate, love, laughter and mayhem are about to ensue.
Reunite with your favourite characters from The Holiday Romance series as they gather together for love, laughter and a party they'll never forget. Perfect for fans of Jo Thomas and Mandy Baggot.
Readers love A Wedding in Tuscany
'Wonderfully sweet [and] sprinkled with plenty of Sandy Barker steaminess to raise the temperatures' ⭐⭐⭐⭐⭐
'I feel in love with the characters and found it hard to put down' ⭐⭐⭐⭐⭐
'A delightful book . . . full of love, laughter, friendships and so much more' ⭐⭐⭐⭐⭐
'An enjoyable book with its stunning location and overall themes of love in all its guises . . . a must-read author for me' ⭐⭐⭐⭐⭐
'What could be more romantic than Tuscany' ⭐⭐⭐⭐
'This book was really good, highly recommend' ⭐⭐⭐⭐
'Escapism at its best' ⭐⭐⭐⭐