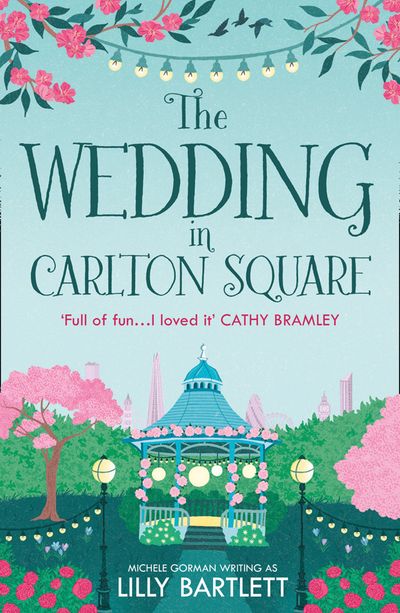 The Carlton Square Series - The Wedding in Carlton Square
(The Carlton Square Series, Book 1)
By Lilly Bartlett and Michele Gorman
You're warmly invited to the Wedding of the Century with all your favourite friends. It's the most gorgeous vintage fun you'll have this year!
When Emma's boyfriend Daniel pops the question with a ring the size of a small country, she realises just how different their worlds are. Her family can only afford a low-key wedding while Daniel's mother is expecting a society party that their high-brow guests won't forget!
How will Emma put together a sophisticated champagne-sodden celebration fit for Lords and Ladies when her dad won't accept any help from Daniel's family, her best friend Kelly has become a world-class Bridesmaidzilla and her cross-dressing Uncle Barbara is dying to strut his stuff up the aisle?
The big day is three months away. Just don't look too closely, because nothing is as it seems!
A heartwarming, cosy romance from Sunday Times bestselling author Michele Gorman, now writing as Lilly Bartlett
Praise for Lilly Bartlett:
'Full of fun…I loved it' Cathy Bramley
'A funny, feel-good romcom… the perfect read to curl up with' FABULOUS magazine
'Fun, flirtatious and fresh' Alex Brown, bestselling author The Secret of Orchard Cottage
'Warm, witty, and wonderful – the perfect rom com' Debbie Johnson, bestselling author of Summer at the Comfort Food Cafe
'I loved the humour, the settings, the quirkiness, and ALL the characters' Jane Linfoot, bestselling author of The Little Wedding Shop by the Sea
'Well worth the read for the lovely characters and London East End setting and sense of humour' Scandalicious
'A really fun, heartwarming rom-com' Sally Akins
'This book was just awesome' 5* Chick Lit Plus
'Great fun and a feel-good read' Linda's Bookbag
'Absolutely wonderful romantic comedy that is guaranteed to lift your spirits' Rachel's Random Reads
Praise for Michele Gorman:
'I love Michele's books. A fun, sassy writer who always makes me smile' Carole Matthews
'So engaging and witty' Sophie Kinsella
'Well-written and an easy read' Daily Mail
"'Brilliance in the pages" - Mrs Mommy Booknerd
"'This is a wonderful rollercoaster of a read" - Tracy Bloom
"'Funny, warm and always entertaining, reading a Michele Gorman novel is like spending time with a favourite friend" - Chrissie Manby, Sunday Times Bestselling Author
"'Gorman's writing is warm, witty and wonderful" - Matt Dunn
"'An undeniable sense of fun on every page" - Nick Spalding
'An engaging read that makes you smile with each page turned' My Weekly'[An] entertaining read' S Mag, Sunday Express -
"'Michele Gorman is the queen of light hearted, yet thoughtful books with female main characters that are just awesome" - Kritter's Ramblings
"'Fresh, funny and brilliant" - Heat Magazine
"'Feisty bursts of humor light the pages" - Lovereading
"'A well-written comedy romp" - Sunday Mirror