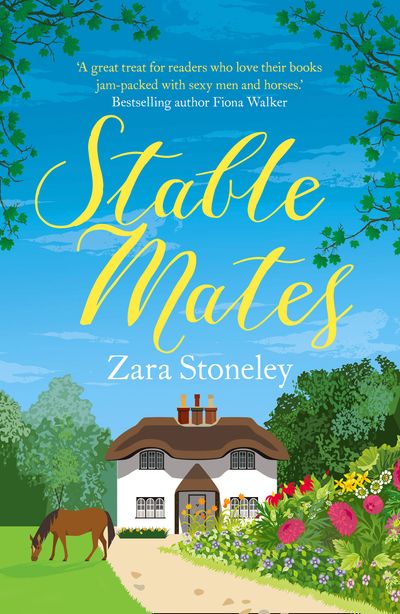 The Tippermere Series - Stable Mates
(The Tippermere Series)
By Zara Stoneley
'A great treat for readers who love their books jam-packed with sexy men and horses.' Bestselling author Fiona Walker
Welcome to tranquil Tippermere, an idyllic village nestled deep in the Cheshire countryside. Home to lords and ladies, horsemen and farmers, and plenty of secrets and scandals…
Leaving a scumbag ex behind her, Lottie Brinkley has hotfooted it out of Spain and back home to the country in serious need of some flirtatious fun to soothe her aching heart.
Luckily for her she's spoilt for choice with not one but three eligible bachelors offering a steamy romp in the hay! But faced with the attentions of roguish eventer Rory Steel, the smiling Irish eyes of hunky farrier Mick O'Neal, and mysterious newcomer Tom Strachan, how can she possibly choose?
When billionaire landowner Marcus James drops dead unexpectedly, his WAGish wife Amanda threatens to sell the heart of the village and sets her sights on Tom! It seems things are heating up for little Tippermere… both in and out of the saddle.
A hilarious, sexy rom com perfect for fans of Jilly Cooper!
"'Fans of Fiona Walker will love this book" - - ThatThingSheReads
'A delightful romp stuffed with fun, frolics and romance' - BestChickLit -
'Stable Mates is up there with Riders and Rivals' - Comet Babes Books -
'Move over Mr Grey, the Tippermere boys are in town! Highly recommended' - Brook Cottage Books -
'A seductive fascinating novel. Mucking out the horses just got sexy!' - Chicks That Read -
"'Not a dull moment" - - A Spoonful of Happy Endings
"'A fun romp for anyone who enjoys their fiction with a side order of quickies in the haybales" - - Books with Bunny
"'Everything that you could look for in a book: fun, humour, unexpected twists and turns, drama and romance and secrets and much, much more" - - On My Bookshelf
'Loved this fun and sexy read' - Mandy Baggot, author of 'One Wish in Manhattan' and 'Truly Madly Greekly' -
"'A delightful romp" - - Rachel's Random Reads
"'A really great love story" - - Star Crossed Reviews