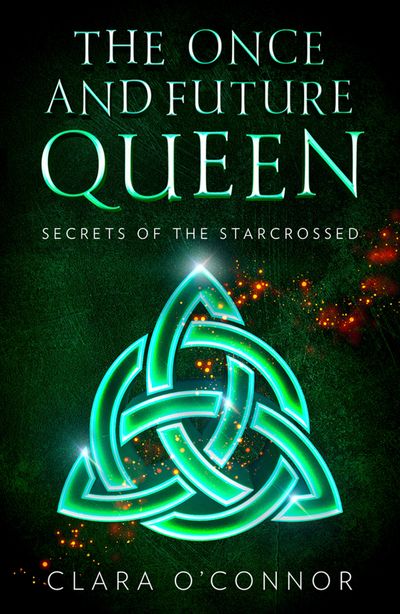 The Once and Future Queen - Secrets of the Starcrossed
(The Once and Future Queen, Book 1)
By Clara O'Connor
An absolute must-read for fans of Shadow and Bone…
In a world where the Roman Empire never fell, two starcrossed lovers fight to ignite the spark of rebellion…
Londinium, the last stronghold of the Romans left in Britannia, remains in a delicate state of peace with the ancient kingdoms that surround it. As the only daughter of a powerful merchant, Cassandra is betrothed to Marcus, the most eligible bachelor in the city.
But then she meets Devyn, the boy with the strange midnight eyes searching for a girl with magic in her blood.
A boy who will make her believe in soulmates…
When a mysterious sickness starts to leech the life from citizens with Celtic power lying dormant in their veins, the imperial council sets their schemes in motion. And so Cassandra must make a choice: the Code or Chaos, science or sorcery, Marcus or Devyn?
Panem meets the Grishaverse in this explosive new YA trilogy perfect for readers of Sarah J Maas, Holly Black, and Cassandra Clare.
Praise for The Once and Future Queen Series:
'OH MY HEART AND SOUL … I am still reeling … seriously I would put this series up with the big ones, like Throne of Glass and The Cruel Prince' Richelle, 5* NetGalley review
'OMG. I will forever be in love with this series … this author has me as a fan for life' Penelope, 5* NetGalley review
'Beautifully written and one of the best dystopian novels I've read … an epic journey you won't forget. I would love to see this made into a film' Zoe, 5* NetGalley review
'I couldn't put it down. There were times when I gasped, when I cried and when I felt my jaw drop. The world Clara O'Connor has woven together is so intricate and real and the storytelling is flawless. Absolutely my favourite series I have read this year' Jessica, 5* NetGalley review
'If you want to immerse yourself in an Arthurian-inspired fantasy world, you need to look no further than this immersive, emotional, and wondrous one' Tessa, 5* NetGalley review
Praise for The Once and Future Queen Series: -
"'OH MY HEART AND SOUL … I am still reeling … seriously I would put this series up with the big ones, like Throne of Glass and The Cruel Prince" - Richelle, 5* NetGalley review
"'OMG. I will forever be in love with this series … this author has me as a fan for life" - Penelope, 5* NetGalley review
"'Beautifully written and one of the best dystopian novels I've read … an epic journey you won't forget. I would love to see this made into a film" - Zoe, 5* NetGalley review
"'I couldn't put it down. There were times when I gasped, when I cried and when I felt my jaw drop. The world Clara O'Connor has woven together is so intricate and real and the storytelling is flawless. Absolutely my favourite series I have read this year" - Jessica, 5* NetGalley review
"'If you want to immerse yourself in an Arthurian-inspired fantasy world, you need to look no further than this immersive, emotional, and wondrous one" - Tessa, 5* NetGalley review