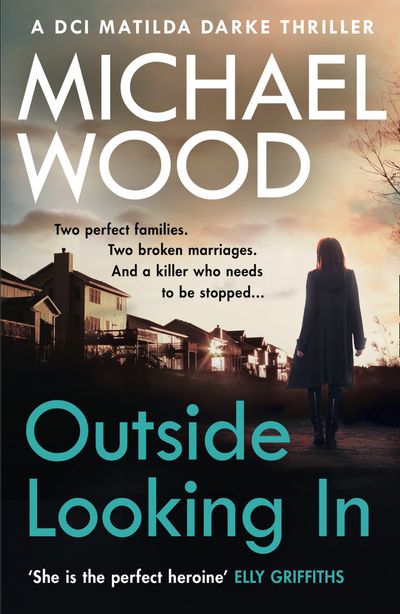 DCI Matilda Darke Thriller - Outside Looking In
(DCI Matilda Darke Thriller, Book 2)
By Michael Wood
'DCI Matilda Darke is the perfect heroine' Elly Griffiths
The second book in Michael Wood's darkly compelling new crime series featuring DCI Matilda Darke. Perfect for fans of Stuart MacBride, Mark Billingham and Val McDermid.
When elderly George Rainsford goes to investigate a suspicious noise one night, the last thing he expects to find is a bloodbath. A man has been killed and a woman brutally beaten, left for dead.
The victims are Lois Craven and Kevin Hardaker – both married, but not to each other. Their spouses swear they knew nothing of the affair and, besides, they both have alibis for the attack. With nothing else to link the victims, the investigation hits a dead end.
The pressure is on for investigating officer, DCI Matilda Darke: there's a violent killer on the loose, and it looks like her team members are the new targets. With no leads and no suspects, it's going to take all Matilda's wits to catch him, before he strikes again.
Praise for OUTSIDE LOOKING IN: -
"'At one point in this tense thriller, the endearing protagonist reflects that the investigation is like having 'all the pieces of the jigsaw but…from different boxes'. Matilda Darke is right - and only in the final pages is the full picture revealed…" - Chris Simms
"'Crackling dialogue, dark wit and an exciting ending. Recommended if you liked Happy Valley" - Mark Edwards
"'DCI Matilda Darke is going places" - James Oswald
"'A compelling, addictive read, it's hard to put down. I really enjoyed getting to know DCI Matilda Darke. She's strong character with real depth" - Robert Bryndza, bestselling author of THE GIRL IN THE ICE
Praise for FOR REASONS UNKNOWN: -
"'A beautifully written book with a dark heart and a secret that impacts on generations" - Sarah Ward
"'A skilfully crafted and compelling debut that hooks from the off and will keep you guessing until the final page. I can't wait for Michael Wood's next one" - M.R. Hall
"'Gripping, sad and unexpected - this is a terrific debut. Wood writes with the confidence and flair of an old hand" - Alex Marwood
"'A strong debut with an intriguing mystery at its heart. The first thing that strikes me is how well he writes female characters. The novel is packed full of strong women" - Ben Cheetham
"'An appealing - and refreshingly human - lead character is swept along in this ingeniously plotted, fast paced debut" - Chris Simms
'This explosive novel is already making a bang - with reviewers comparing Michael's work to that of his heroes Val McDermid and James Oswald' Sheffield Star -