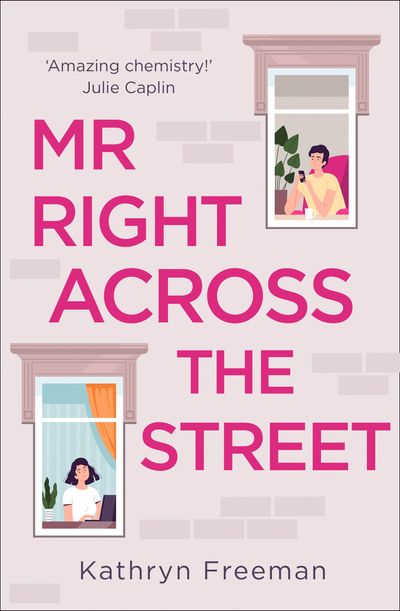 The Kathryn Freeman Romcom Collection - Mr Right Across the Street
(The Kathryn Freeman Romcom Collection, Book 4)
By Kathryn Freeman
The perfect pick me up romcom for fans of Beth O'Leary, Sophie Kinsella and Sophie Ranald!
Mia Abbott's move to Manchester was supposed to give her time and space from all the disastrous romantic choices she's made in her past. But then the hot guy who lives opposite – the one who works out every day at exactly 10 a.m., not that Mia has noticed thank-you-very-much – starts leaving notes in his window…for her.
Bar owner Luke Doyle has his own issues to deal with but as he shows Mia the sights of her new city he also shows her what real romance looks like for the first time. And when he cooks up a signature cocktail in her honour, she realises that the man behind the bar is even more enticing than any of his creations. And once she's had a taste she knows it will never be enough!
Readers are falling for Mr Right Across the Street:
'This 5-star romcom had all the feels…For those looking for a great feel-good romance with a side of giggles, this is the book you need' Norma
'Perfect for those who love a good rom com!' Joy
'You'll definitely laugh and love the characters…Totally relatable' Karena
'Hi, my name is Laura and I am in love with this book … rom-com fans everywhere give this book a go' Laura
'How could I resist such a cute cover?… I was lost in this book from the moment I picked it up' Maggie
'The concept of this book was incredibly sweet, with the messages on the window… It's like a Taylor Swift song' Beata
'Yes, yes, yes! I am here for strong female characters, always! … This was such a sweet story and the cover is beautiful!' Ashley
Readers can't get enough of The New Guy: -
"'Seriously love this twist on an office romance" - Christina Parker, Netgalley
'Their chemistry was off the charts'Mad Mom Life -
"'Better than most rom coms I've watched and read!" - Jennifer Arnold, Netgalley
"'Reads like the perfect rom-com movie" - Sinead, Librarian
"'Very sexy and very sweet" - Morgan Shulman, Goodreads
"'Warmed my heart and read like a movie…What a beautiful sweet surprise this was" - Kelsey Peterson, Goodreads
"'You have yourself a page turning, don't want it to end story, in essence an absolutely cracking read!" - Margaret Harris, Netgalley
"'A gorgeously sweet romance!" - From Rachael Claire
"'It's got laugh out loud moments, heart wrenching moments but most important that feel good factor" - Chantiece Bates, Goodreads