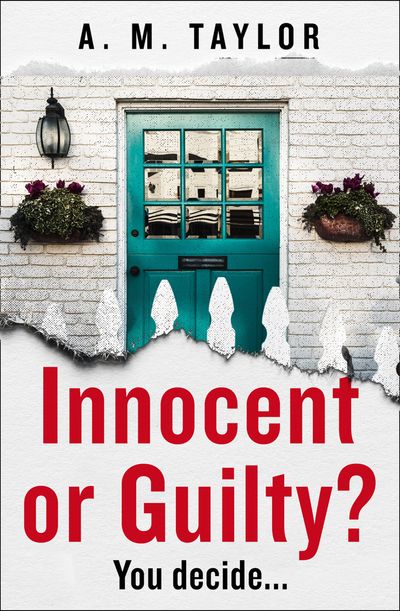 Innocent or Guilty?
By A. M. Taylor
A gripping psychological thriller full of twists and turns!
Is the right person behind bars?
One morning ten years ago, the town of Twin Rivers changed forever when the body of Tyler Washington was found in the woods. Son of the mayor, star of the high school basketball team – his death struck right at the heart of this tight-knit community.
For Olivia Hall, Tyler's death heralded the start of her own personal nightmare – her twin brother, Ethan, was arrested for Tyler's murder. Ten years later, Ethan is still in jail. Olivia is convinced he is innocent, and now, a true crime podcast has taken up his case.
As the podcast digs deeper, secrets, lies and shocking revelations are all uncovered. For the first time, Olivia dares to hope that Ethan may be set free. But if he didn't kill Tyler, who did? And how far will they go to keep their secrets safe?
Perfect for fans of podcasts Serial, Happy Face and The Teacher's Pet, and TV shows Making a Murderer, Staircase and Dirty John
'A.M.Taylor hits her stride with this fast-paced flashback mystery where legal thriller meets true crime podcast' Rachel Sargeant, author of The Perfect Neighbours
'You think you know who's innocent or guilty in this book and then a disturbing new truth is revealed and you're wrong footed yet again' June Taylor, author of Keep Your Friends Close
"'A.M.Taylor hits her stride with this fast-paced flashback mystery where legal thriller meets true crime podcast" - Rachel Sargeant, author of The Perfect Neighbours
"'You think you know who's innocent or guilty in this book and then a disturbing new truth is revealed and you're wrong footed yet again. But it's the writing that really makes A. M. Taylor stand out. Her evocative prose puts you right in the moment, and in Innocent or Guilty that moment keeps shifting from one to the next. I'd say she's one to watch" - June Taylor, author of Keep Your Friends Close
Praise for A. M. Taylor -
"'Emotive, clever and compelling, FORGET ME NOT slowly unravels its secrets and keeps the reader hooked throughout" - Phoebe Morgan, author of The Doll House
"'One of those books that completely absorbs you. On the one hand, a profound exploration of grief. On the other, a chilling psychological thriller. Perfectly paced and beautifully written" - June Taylor, author of Keep Your Friends Close
"'Terrific writing, intelligent plotting and memorable characters. All you need" - Liz Loves Books
"'This mystery gets better and better as the pages turn" - Amanda's Book Review